How Central Sports scaled profits with RMH and WebSell
Fully independent and family-run,
Central Sports
was founded over 20 years ago and has been at the heart of sports retail in the west of Ireland since. The business has built a loyal customer base and has seen phenomenal online growth in recent months: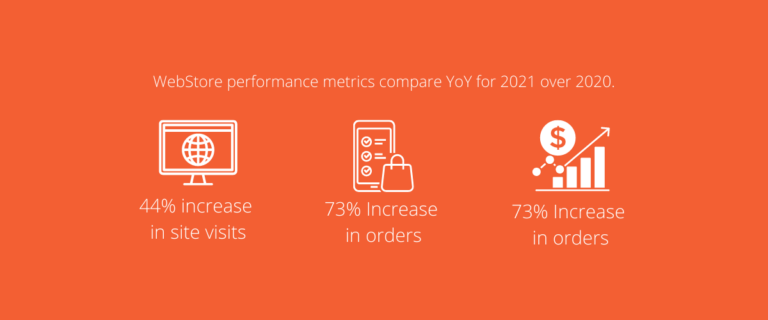 At the heart of the action
Ireland is a proud sporting nation that embraces every sport that hits its shores. From homegrown sports like Gaelic football and hurling, to international games like basketball. It's great for fans but presents a challenge for smaller retailers.
They need to stock products for every sport or risk upsetting some customers.
Luckily, you can find independent sports apparel and accessory retailers in almost every town in Ireland. Central Sports is one such business that has been serving fans and players of all sports for over 20 years. Throughout their history, the team at Central Sports have worked tirelessly to make their store a step above the competition. Working with Positive System Solutions (PSS) as their Point-of-Sale partner and e-commerce partner WebSell they embraced the future of commerce and scaled effectively.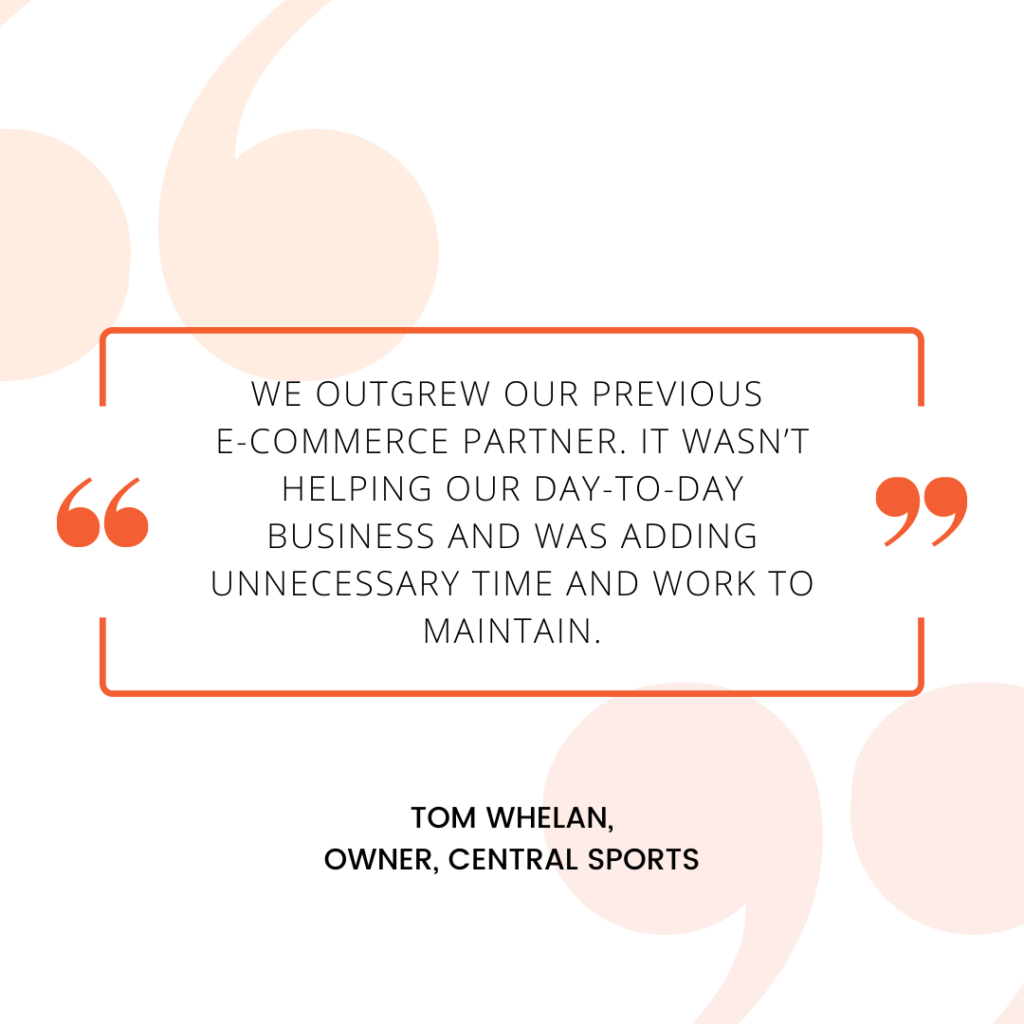 Ireland is a sports-mad country, so retailers in the industry must become experts at many different sports. Their passion is great for sports apparel businesses, but is not without it's headaches. It means more products spread across more categories and closer inventory management.
While their brick-and-mortar store thrived due to their tireless efforts, their e-commerce platform was beginning to let them down. In-store operations were disconnected from their online store meaning staff had to manually keep their webstore updated with every new product. They needed a solution that connected the dots between their Point-of-Sale system and website instantly.
This is when Central Sports decided to upgrade their entire retail infrastructure, upgrading their e-commerce platform to WebSell, and switching their Point-of-Sale system to Retail Management Hero (RMH) with Positive System Solutions.
The Central Sports team were looking for a fully integrated e-commerce solution that gave them a website they had better ownership of, and which worked for them. They also needed a platform that could integrate smoothly with their new RMH system.
Central Sports were offered a solution which streamlined operations and allowed them to scale. Positive Systems Solutions and Websell are trusted partners who offer a unified commerce solution. The seamless integration of Websell e-Commerce and Retail Management Hero EPOS system allows brick and mortar retailers to easily operate online with little manual work.
Central Sports also benefited hugely from working with WebSell's success services team. They worked closely with WebSell on PPC ad campaigns and Email Marketing services to help them exposure and online sales. "We've found good success working with Tomasz and Cillian from WebSell on our marketing efforts. We're a small store so we don't have huge resources for marketing. Having a solution for that built onto our e-com store was brilliant," Tom said.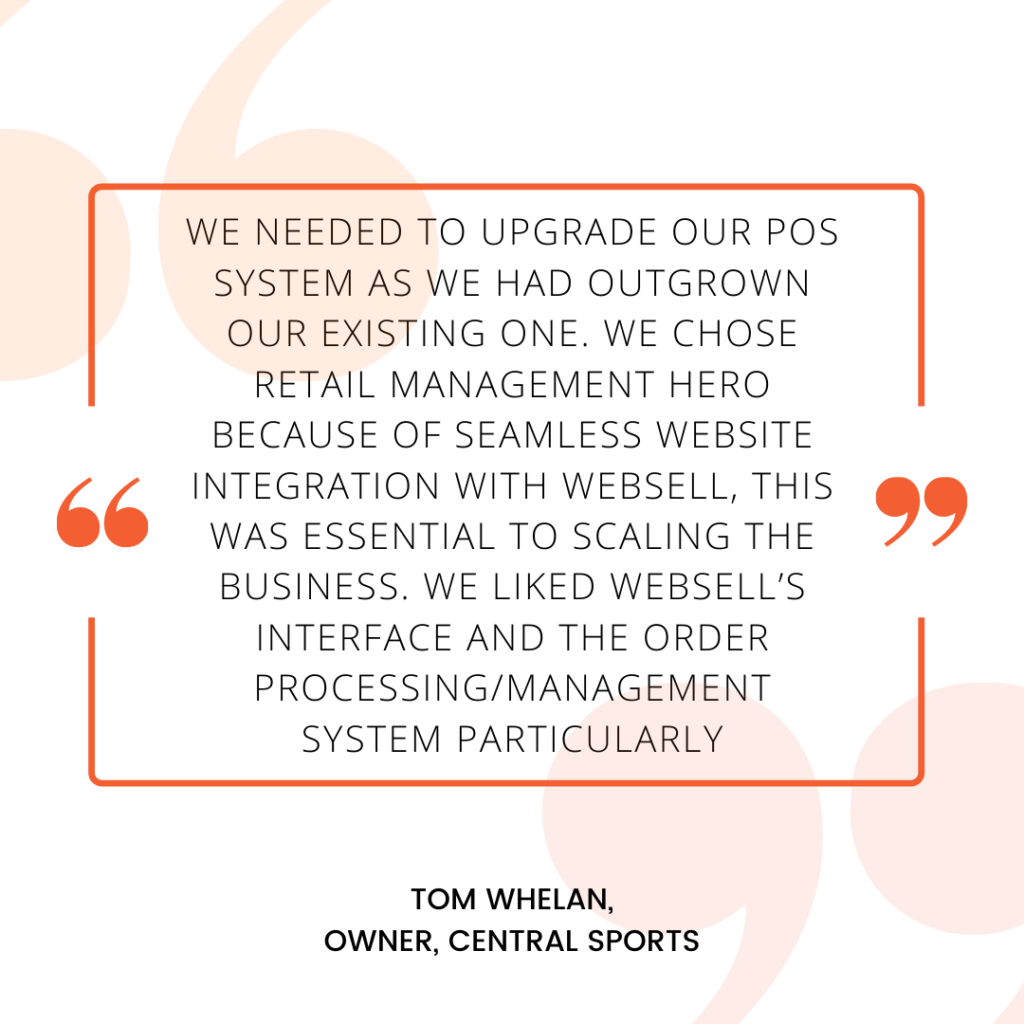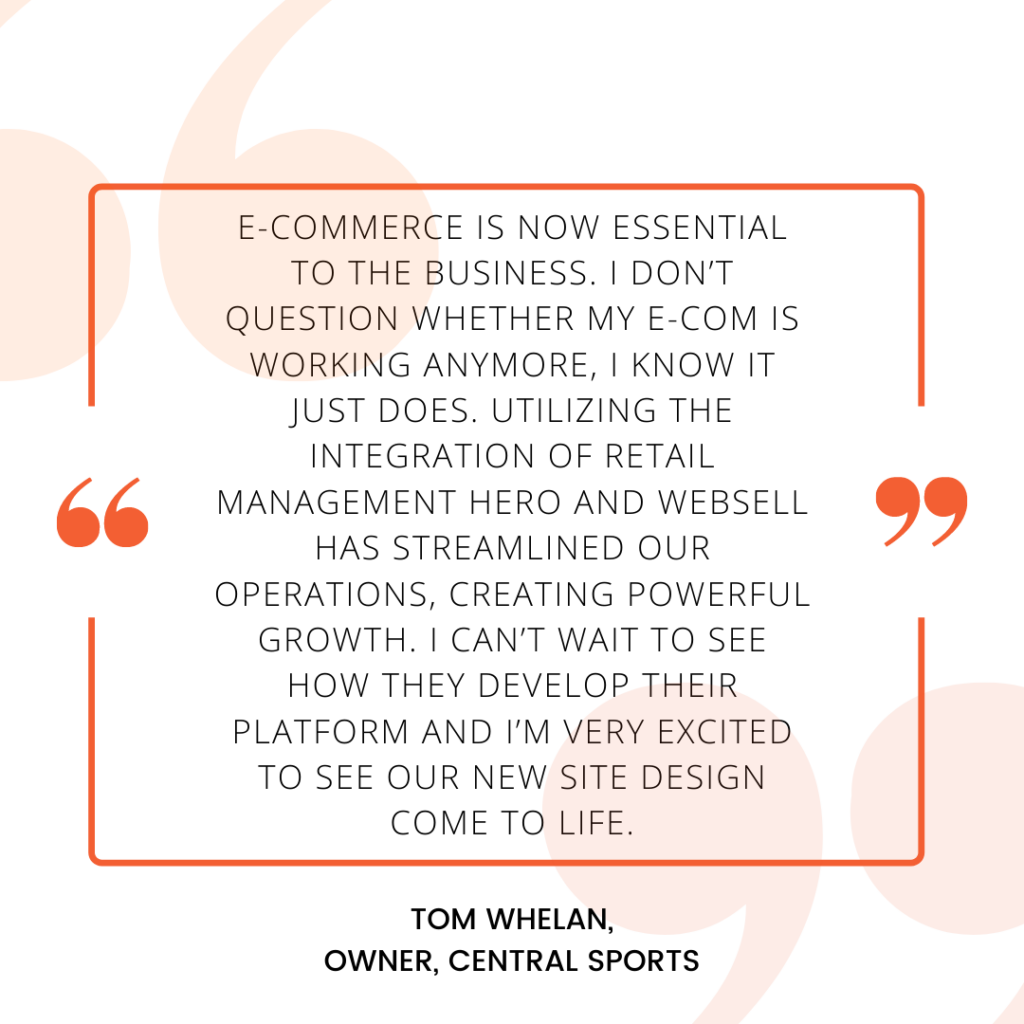 Since launching on WebSell, Central Sports have noticed a nice increase to their metrics showing strong growth. Here's a snapshot of some of their numbers comparing YoY 2021 over 2020 performance metrics:
44% increase in site visits
73% increase in orders
67% increase in revenue
WebSell and Positive System Solutions have enabled Central Sports to experience omnichannel retail. Working with both companies has allowed their brick-and-mortar store to communicate effectively and reliably with their e-commerce site.
Central Sports is now looking ahead to the release of their upcoming Next Gen site design. They're looking to capitalize on recent growth and reward customers with an even faster on-site experience. Central Sports is also excited to continue developing their marketing strategy by working closely with WebSell's success team.
Do you need a fully integrated epos system?
Contact our expert team to discuss your requirements today!