Retail Management Hero [RMH] eCommerce Integration
Drive retail growth, streamline operations, and improve customer service. Retail Management Hero [RMH] offers small and midsize retailers a complete point of sale (POS) solution that can be adapted to meet unique requirements.
This powerful software package automates POS processes and store operations, provides centralised control for multi-store retailers.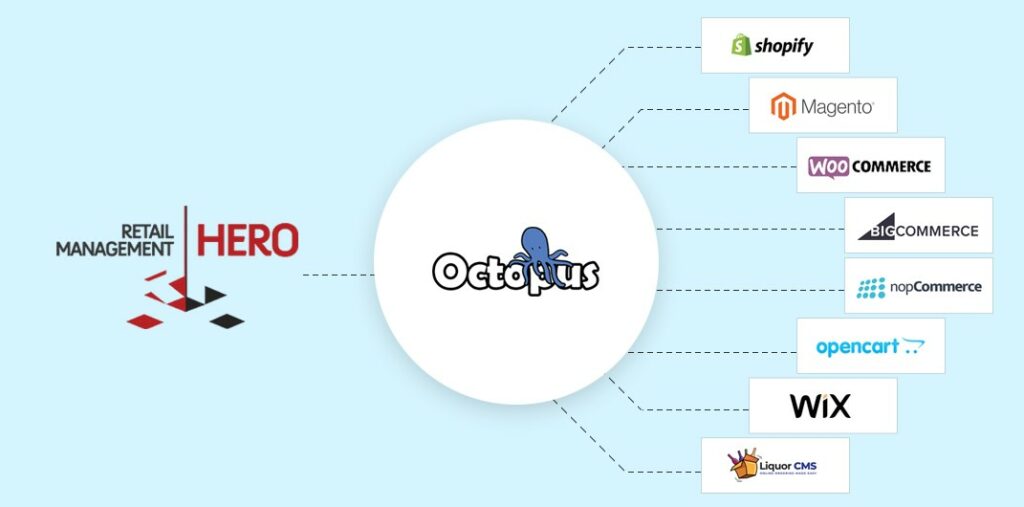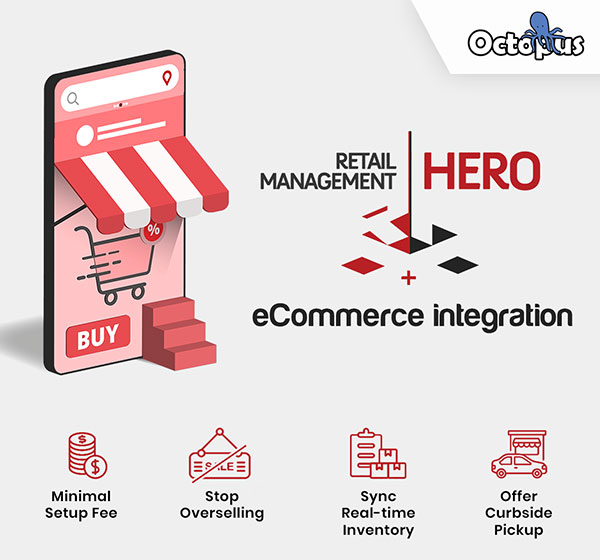 Sell on Multiple eCommerce Platforms
Retail Management Hero [RMH] Integration Enables You to Take Your Business Online
Using 24Seven Commerce technologies, expand beyond the boundaries of your physical stores. By integrating your brick and mortar store to online platforms such as your website, Amazon, Facebook etc., you're able to sell your in-store products while making sure quantity and prices stay in synch.
24Seven middleware called Octopus allows you to manage inventory and eCommerce platforms.
Drive Foot Traffic to Your Store
Octopus Channel is our proprietary cloud-based integration platform that syncs in-store items with Google Local Inventory Ads platform.
It enables shoppers to view your store inventory in real-time when they search for products on their smartphones. When shoppers click on your ad, they will land on a Google-hosted web page of the store known as 'Local Storefront'.
Shoppers can use the local storefront to view your in-store inventory, check stock availability, see store hours, avail promotions and find directions.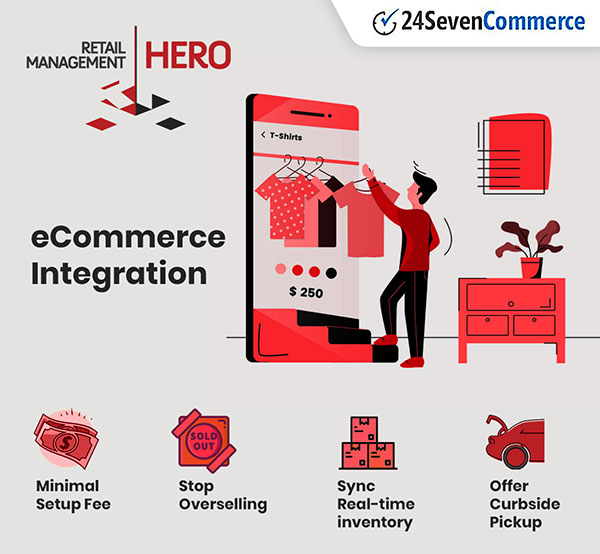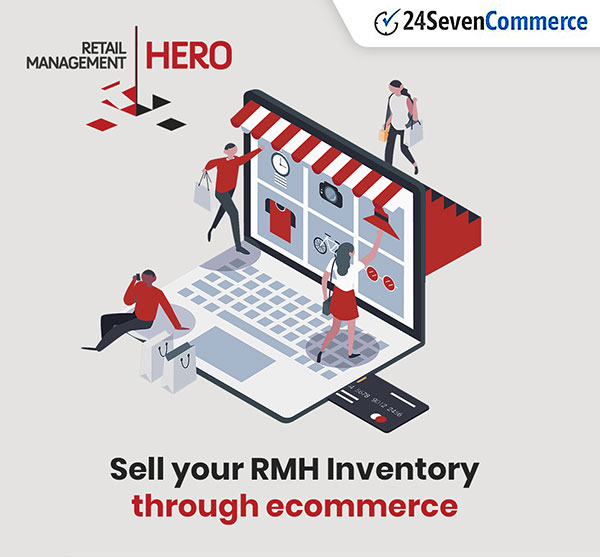 Octopus Channel integration eliminates manual data entry, no more copy-pasting, and manage all your products in one place.
Octopus Channel Synchronization with Retail Management Hero [RMH] POS automatically synchronizes inventory across all marketplaces, eCommerce platforms, and physical locations, increasing both customer satisfaction, rankings and delivering better operational efficiency.
This, in turn, results in reduced management costs and higher
How The Integration Works
Customers in over 20+ countries rely on 24Seven Commerce. Their seasoned team provides round-the-clock support to our customers.
Retail Management Hero [RMH] users in countries including Australia, Canada, Egypt, Guatemala, Honduras, India, Indonesia, Iran, Jamaica, Monaco, Netherlands, Nigeria, Pakistan, Saudi Arabia, Spain, UAE, UK, and the USA share a professional relationship and technological partnership with 24Seven Commerce.
They are a leading provider of Integration-as-a-Service. Their team has a demonstrable track record of providing robust and innovative Retail Management Hero [RMH] integration service to their customers.
Data Synchronization Between Retail Management Hero and eCommerce Platforms
There are more than 50 Retail Management Hero [RMH] fields that can be mapped to your web store.
Some of the most common fields that can be mapped are given below:
Upload from Retail Management Hero [RMH] to eCommerce:
• Item name
• Item lookup code
• Item Type
• ParentItem
• Description
• Extended description
• SubDescription1
• SubDescription2
• Subdescription3
• Barcode
• Department
• Manufacturer
• Category
• Price
• PriceA
• PriceB
• PriceC
• Sales price
• Cost
• MSRP
• Quantity
• On Hand Qty
• Committed
• Image
• Color
• Size
• Style Matrix
• Notes
• Weight
• BinLocation
Download from eCommerce to Retail Management Hero [RMH]:
Order Number
Customer Bill To name
Bill to Address
Ship to Name
Ship to Address
Email address
Phone Number
Item Code
Item Name
Item Quantity
Item Unit Price
Row Total
Discount
Tax
Shipping Cost
Gross Total