Positive awarded Guaranteed Irish membership!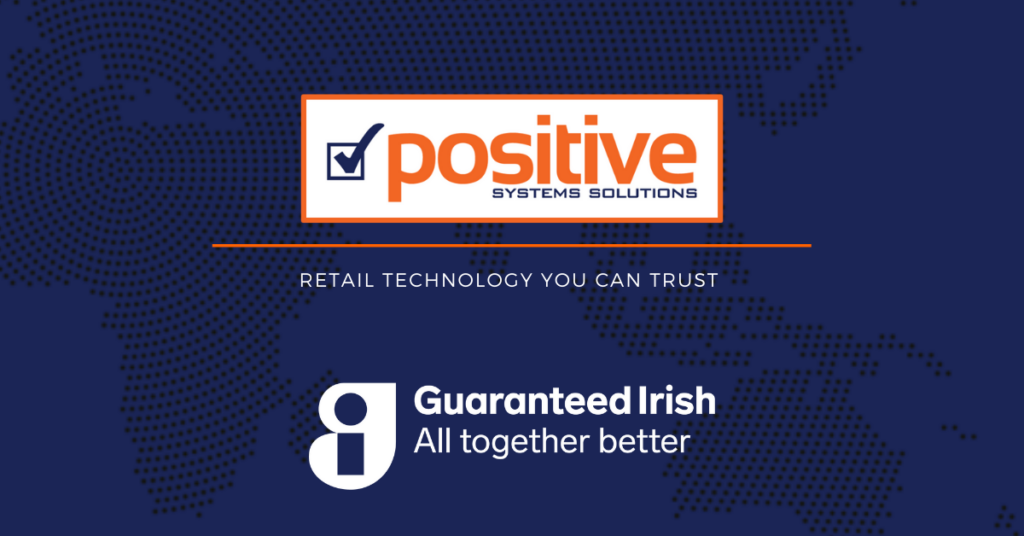 Positive Systems Solutions are delighted to announce we have been awarded the stamp of approval from Guaranteed Irish. We are now members of this fantastic network which supports Irish businesses.
This symbol helps consumers and businesses to identify products and services that are #AllTogetherBetter choices for communities across Ireland. The symbol is awarded to companies which provide quality jobs, support local communities, and are committed to Irish provenance. Supporting local is a core value of the Positive Systems Solutions company culture, we are delighted to align with Guaranteed Irish and become active members within this space.
What is Guaranteed Irish?
The Guaranteed Irish symbol is the national symbol of trust for businesses in Ireland. Guaranteed Irish is an Irish non-profit business membership organisation representing indigenous and international businesses operating in Ireland. The Guaranteed Irish symbol is awarded to companies which create "quality" jobs, contribute to local communities and are "committed to Irish provenance".
Since 1974, Guaranteed Irish has been championing businesses in Ireland. Encouraging both customers and businesses to support local. With a calendar packed with networking events, business supports and PR opportunities it was a
For more information on Guaranteed Irish visit their website below
Positive Systems Solutions are a retail technology service provider based in Dublin.
With over 15 years of industry experience, Positive is the partner of choice for single-store operators right through to enterprise clients. 
Positive provide retailers with both scalable and reliable retail technology to enable business growth and development. The client-focused team of professionals manage all aspects of POS implementation including consultation, installation, hardware sourcing, product training and aftersales support.
With a range of solutions from cloud-based to on-premises POS, regardless of the retail sector, Positive Systems Solutions can provide a suitable retail solution. Positive boasts a large network of clients across all retail sectors and company sizes.
Positive Systems Solutions aims to create lasting client partnerships through reliability, professional technical support, and the most advanced retail solutions.