Understand Your Customers, Your People, Your data—With Power BI
Transform your retail operations and improve efficiencies by acting on insights that are delivered in real-time.
Accelerate your business's retail innovation, agility, and overall resilience to achieve growth, regardless of market shifts and disruptions.
With so many shoppers moving online, they expect more than just rewards points and discounts. Gain visibility into the insights, patterns, and purchasing predictions you need at speed and scale to effectively connect with them.
Deliver An Intelligent Supply Chain
Get the right product, at the right price, to the right customer, at the right time—while closing the gap between demand generation and fulfilment.
Retail Analytics With Actionable Insights Instantly
Improve Profitability And Save Time
Retail Data analysis is no longer a wish I had, It's a must-have. You lose sales every hour to your competition simply because they are analysing their data better than you. They send targeted e-mail shots to their clients based on their buying behaviour and products they have purchased in the past. Are you doing that?
Your clever competition is analysing their inventory to the nth degree, they understand inventory turns over time, they have insight as to top-selling and slow-moving products and categories. The merchandise better-using Market basket analysis so they know the most profitable areas in their store for the correct product placement and promotion.
Now the clever part – only some of your competition are using some of these data sources and some do only a tiny amount of analysis, but it has great effects on sales and inventory management in their business. You can do more than them quicker and easier to really drive past them, our retail ePoS solutions collect this data for you automatically and we can give you the tools, already set up, to take action through our insights module. Collect all your data from your Omnichannel sources and display it using easy to understand and actionable visual aids. You can even set up schedules for this information to be e-mailed to you, best of all you can access this anywhere anytime once you have an internet connection as this is our Cloud-based Analysis solution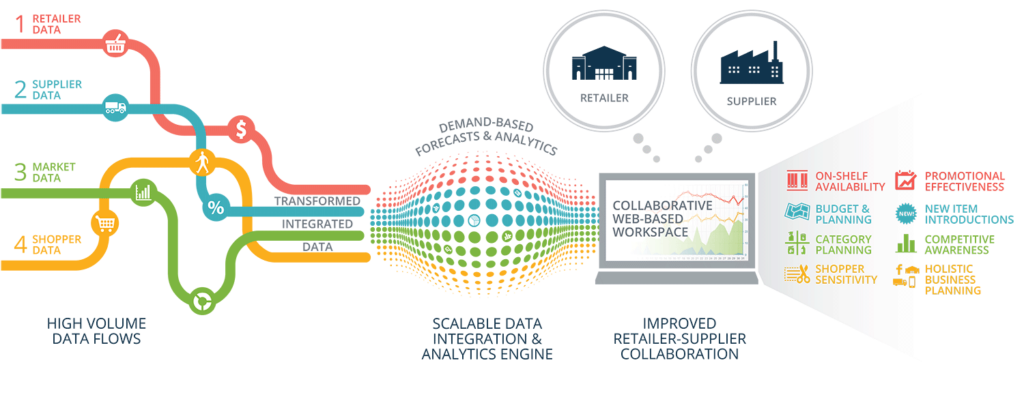 Retail Analytics With Actionable Insights Instantly