Unified Commerce Success Stories
Beechdale Garden Centre
Positive Systems Solutions have been Beechdale Garden Centre's Retail Technology partner for a number of years. Beechdale utilize our Retail Software Solution [RMH] which is the solution of choice for them and it also seamlessly integrates to their e-commerce solution, along with our Handheld technology for Stock Management.
Beechdale Garden Centre is a well-established, well known, family run business, having been on their present site since 1990, with a reputation for value, convenience and quality. Set in the attractive rural setting of Co Wexford with easy access just of the N30 south of Enniscorthy.
Retail Management Hero™ (RMH) is a complete point-of-sale (POS) solution that enables Beechdale Garden Centre to efficiently manage all their back office and POS activities. Packed with functionality to optimise inventory management and remove the guesswork from purchasing decisions, RMH is a standalone software system that helps small to medium-sized store chains improve business intelligence (BI) while operating smarter and faster throughout the entire retail environment.
Packed with features and functionality, RMH addresses the needs of businesses in many verticals including the Garden Centre Retail Sector.
Retail Management Hero is the system that replaced Microsoft Dynamics [RMS] Point of Sale system which reached end of life in early 2021. RMH is the ideal solution for many small to medium sized retailers worldwide.
RMH helps Beechdale Garden Centre to maximise profit and efficiency by providing easy-to-digest reports on everything from sales to stock levels.
RMH Back office functions allows Beechdale Garden Centre to automate the system to immediately order more of a certain product once stock levels drop below a certain threshold.
Detailed analytics allows them to identify which products are selling well and lets them look at metrics such as footfall to better allocate resources. So rather than them have a full complement of staff on shift all day Saturday, they just bring in a couple of extra pairs of hands from 6pm until close.
"The implementation process was very practical and encouraging.The collaborative approach was brilliant and made things very easy."
Mr. Keith Rothwell | Beechdale Garden Centre
The right system integrates with your ecommerce platform to provide a consistent omnichannel shopping experience. So when Beechdale sells something in-store, their stock levels immediately update online and vice versa.
NitroSell [Positive Systems Solutions eCommerce Partner] specialise in creating e-commerce websites connected to Retail Management Hero [RMH] and is the leader for businesses looking to connect Retail Management Hero [RMH] to their site. Working with both Positive Systems Solutions and NitroSell was Beechdale Garden Centre's key path to success.
"Being able to change information in one place and know it will seamlessly replicate from our local database to the website is very reassuring. The biggest impact though has definitely been how simple and quick the 'Get Web Orders' feature makes the processing of online orders"
Mr. Andrew Rothwell | Beechdale Garden Centre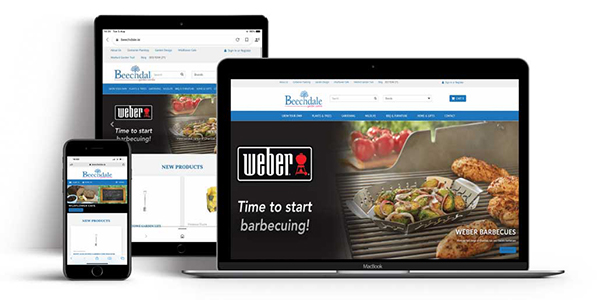 https://beechdale.ie/ powered by Nitrosell & Positive Systems Solutions
https://www.nitrosell.com/solutions/retail-management-hero/
In the age of internet shopping, customers are becoming increasingly disloyal. They don't like arriving in-store to find the item they were viewing online is out of stock, and they don't like having to wait in line. Retail Management Hero [RMH] helps to relieve these common pain points for businesses.
Beechdale Garden Centre also has a seamless embedded solution for their payments e.g. Credit Cards/Debit Cards which vastly reduces human error. It also has the benefit of easier reporting. Everything just adds up at the press of a button. This ultimately results in happier customers; we all love a smoother payment experience.
Retail Management Hero [RMH] also allows Beechdale Garden Centre to capture customer details at the point of sale and build a valuable database of email address and phone numbers. This information can then be fed into their marketing platform and used to provide notification of upcoming offers and events.

Built-in loyalty schemes in Retail Management Hero also lets Beechdale Garden Centre reward those precious returning customers.

Having read the above, we would hope that you see the immense benefits of choosing Positive Systems Solutions www.positiveretail.ie as your Unified Commerce partner. Positive have been in business for over 15 years, we live and love retail, Retail Technology you can Trust.
Central Sports, a prominent player in the sports retail industry, was facing...
Read More
Central Sports, a prominent player in the sports retail industry, was facing...
Read More