What Is Unified Commerce &
How Can It Help Your Sales?
A primary daily concern for all retailers is trying to improve customer experience, because a better store experience means more sales. Retailers should try to create a seamless shopping experience for their customers to achieve this. The most important step in creating this experience is called unified commerce.
Between brick and mortar Point of Sale (POS) systems to e-commerce, retailers often rely on a lot of different and disconnected pieces of software and technology to run their business. This means a lot of headaches, as with no system working together, it means your data isn't centralized and will result in a lot of manual work.
Retail businesses collect more information from customers than ever before. From all your digital channels to every interaction in-store, data is being collected at every sales touchpoint. If all of this data isn't centralized into one system, it impedes your ability to analyze your data and pull out useful insights.
That's why retailers need unified commerce and an omnichannel retail strategy to connect all their systems so they can get a full picture of who their customers are and what is going on across the business.
This post will discuss the benefits of a unified commerce strategy, which is being delivered by NitroSell and Positive System Solutions for customers across the UK and Ireland.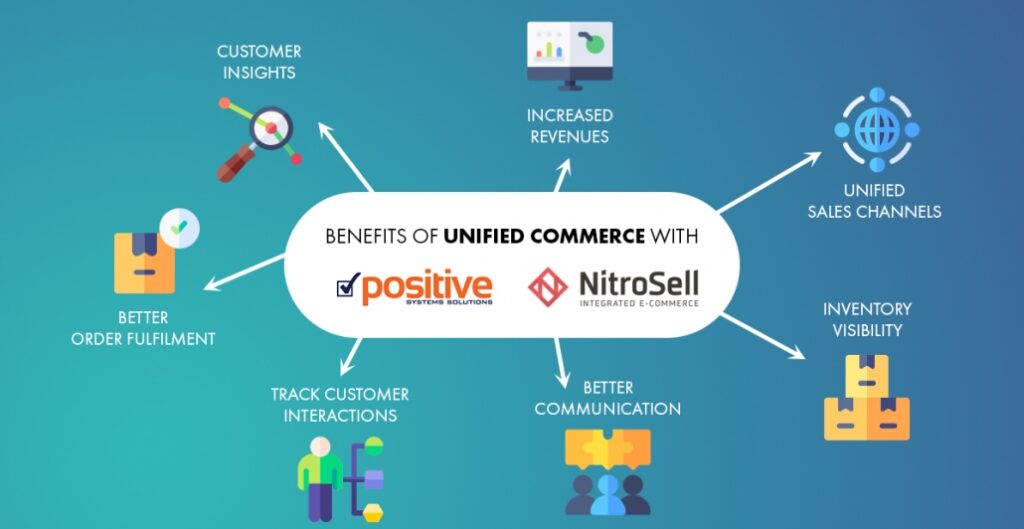 What Is Unified Commerce?
Unified commerce is the practice of connecting all the systems in your business via a single platform, from backend systems to customer-facing channels like your website. By having a unified or omnichannel strategy, you can sync customer interactions with your store or products across multiple channels. It also gives you a single view of your inventory so product information and sales data is consistent throughout your business.
Unified commerce combines everything related to your retail business in one platform like ecommerce, customer service, customer loyalty, Point of Sale (POS) functionality, inventory management, and much more. Businesses with a unified strategy send data in real-time between every system, every time a customer interacts with your business. In today's world where customers can browse in physical stores and then checkout online (or vice versa), having all your systems connected is essential.
Why Do I Need A Unified Commerce Strategy?
Customer experience and customer satisfaction is more important than ever before. It's how you turn new shoppers into loyal customers so it's really important for staying in business.
It would be very difficult to deliver this seamless customer experience you need without a unified commerce strategy.
Think about a scenario where a customer sees you have stock online, then goes into your brick and mortar store to purchase but finds out it's actually out of stock. You've probably just lost a customer for good, and all because your in-store POS system and online store were working off different sets of data.
In a scenario like this, it also means a member of staff will likely have to manually update the inventory number so that your ecommerce store is more accurate. What you're left with is an unhappy customer and a member of staff occupied with a task that could be completely automated.
Scenarios like these can be avoided with a unified commerce strategy.
What Are The Benefits Of A Unified Commerce Strategy?
Here are the many ways that a unified commerce platform could help you improve customer experience and increase sales.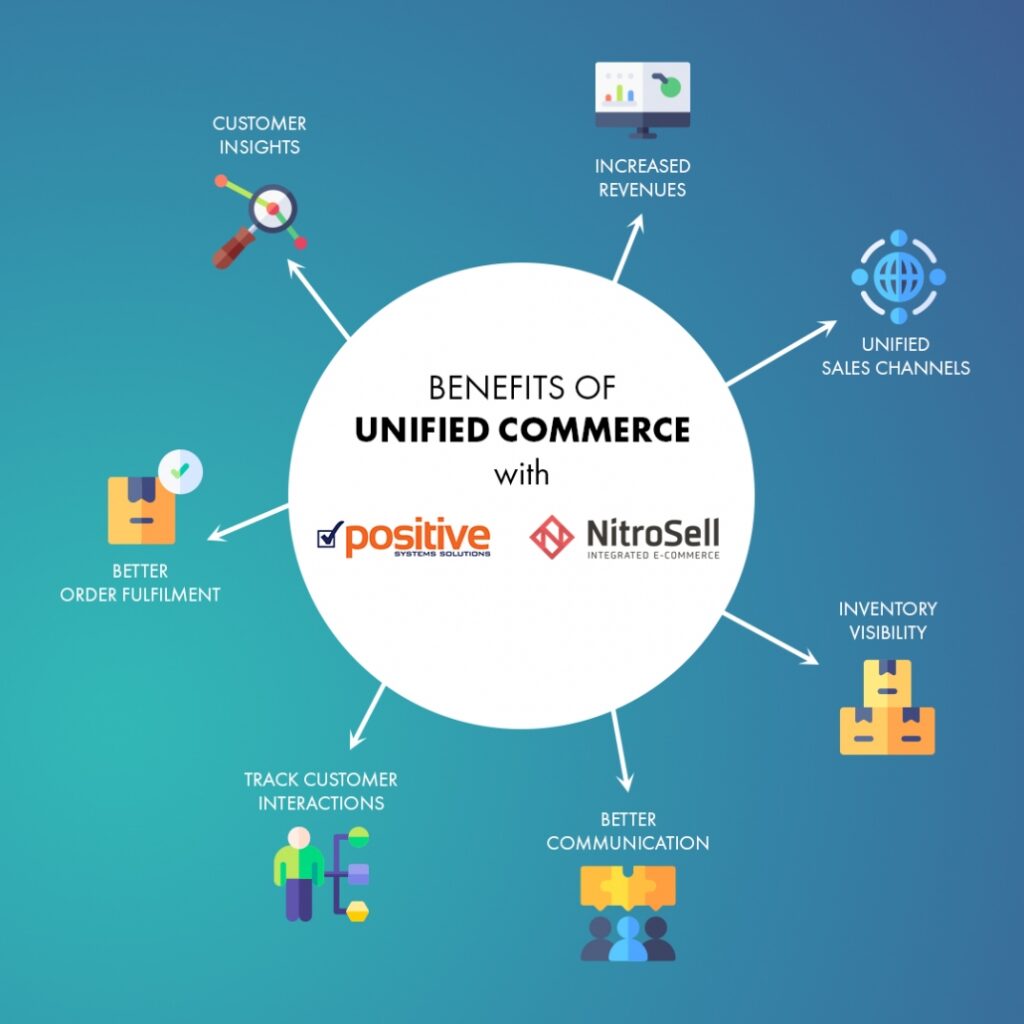 There's nothing worse for a customer than getting a vastly different shopping experience when shopping via the same retailer across different channels. It's your business's job to present a cohesive whole across all channels so the customer can have a smooth and seamless experience.
Whether they choose to shop in-store, on their desktop, or via a mobile device, the customer should be given a consistent experience. This consistency is what unified commerce gives you. with all channels working together, the customer will have an uninterrupted shopping experience.
A customer should be given the same product description and info no matter where they encounter your product, whether it's on Amazon or social media. With a single channel platform managing your product info and sending it to every touchpoint, a unified strategy gives you this.
Another example would be to offer the same promotion to customers across all channels. If you're having a big store-wide sale, all customers should be aware of this, no matter how they shop.
Full Inventory Visibility
One of the main reasons you need fully connected systems is to have full visibility over your entire inventory. With real-time communication between your store and website, you'll never sell an item online that you don't have in stock.
As both systems work from the same data source, your staff can work safe in the knowledge that the website will always reflect the real conditions in your brick and mortar store.
With a unified system, communication with your customers becomes much easier. When orders and shipping occur within one system, it is much easier to keep customers informed about the status of their order.
Order confirmations emails are also a great way to upsell to customers and you can even follow-up with product review or feedback request emails.
With all of this information in one system, your staff can get a full picture of how a customer has interacted with your business, allowing them to make informed decisions about how to keep that customer.
Tracking Customer Interactions
Today's customer journey looks more like a spider web than a straight line now. Your customers likely interact with your business in a number of different ways and on many sales channels. Whether it's through your ecommerce site, in-store, or via social media, it's crucial that you're tracking all their behaviour.
Recording these interactions lets your business make informed decisions about how to speak to that customer. You could hit them with a timely offer based on past purchases for instance.
If you have a loyalty program, these interactions also help you reward customer loyalty across multiple touchpoints.
For retailers with more than one store, having disconnected systems can result in some fulfilment disasters, if not make it outright impossible. With stock located in different locations, but one site for the whole business, there's no way for these systems to automatically speak to each other.
With unified commerce, it opens up every possibility. Customers can now check for stock in their local store and choose to collect from there or save on shipping costs by having it shipped from a more local location.
Customers really care about the cost of shipping, with 52% of shoppers saying they add items to their cart in order to qualify for free shipping. It's a major factor in better customer experience and something only unified commerce can give you.
How Will Unified Commerce Grow My Business?
Now that we know what the benefits of a unified commerce strategy are, how will all of these benefits work to increase my sales?
For retailers, a major (and sometimes unseen) cost is labour seepage. Many retailers are paying staff to sell and help customers on the shop floor, but they invariably spend a large portion of their working day completing tasks that really should be automated. Unifying your commerce channels removes a large amount of manual costly waste and allows your staff to get on with making sure your customers have a great shopping experience.
According to a survey by Boston Retail Partners (BRP), 81% of retailers plan to deploy unified commerce platforms in the next year. That means that the vast majority of retailers have just around 12 months to implement a new software system. Taking this onboard, if you are planning to follow suit, costing the benefits could be easier than you thought. If you can save a staff member just two hours a day on elements that are not automated such as fulfilling orders on one system, updating another, adding images on an ecommerce platform, and then on the POS. This benefit alone, on one member of staff is a saving of over €7500 per annum.
Duplication is very hard to get right as having multiple disparate systems is hard to manage. Entering the same information manually is time consuming and typically generates loads of flaws. Wrong sizes, wrong order, wrong customer, wrong price, and something shipped incorrectly are just some of the challenges faced by retailers trying to do it all from many systems.
Errors and nearly always caused by manual error. Non-automation costs you time and money and it makes for very unhappy customers.
Unified commerce increases the average order value and order frequency of shoppers.
It also tends to increase customer loyalty, which is partly down to the increased convenience, customer experience, and service offered. Happy customers mean consistently high sales.
Make business decisions based on your centralised data. Pull real-time data from localised reports in the Back Office or build custom dashboards with integrations to applications like Zoined or Power BI.
How Do I Get Unified Commerce Solution?
To get unified ecommerce, request a free demo of NitroSell today.
You can also visit our website PSS to find out more about our combined solution.
Central Sports, a prominent player in the sports retail industry, was facing...
Read More
Central Sports, a prominent player in the sports retail industry, was facing...
Read More